Chu Wei is always constantly changing his teaching methods and platforms to best fit our learning styles and every tutorial question is freshly tailored to perfection.
Chu Wei's nightmarish and infuriating tutorials exposed me to a lot more different types of questions. He stayed back after class to clear my doubts, replied my bombarding texts, answered my questions with patience and most importantly he made sure that I understood.
Having profound knowledge is one thing but to be able to share that with each and every individual was a whole different ball game. Chu Wei took the effort to understand his student and learn what teaching methods worked best for them and tailor his solutions to suit each and every one of us.
Chu Wei's classes are made to suit the pace of each student, and even if you're very confused he will patiently stay back to explain everything until you understand.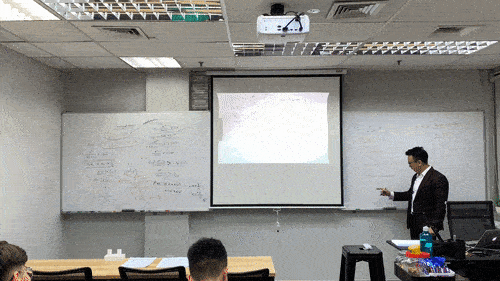 Singapore's Stellar JC H1 and H2 Maths Tuition Programme
The award-winning JC maths tuition programme at AO Studies Singapore, taught by AO Studies Math tutor for Junior College students Mr Lim Chu Wei, is a tested and proven programme which has seen many students achieving a distinction for A Level H1 and H2 maths, at both JC1 and JC2 level. We have specially designed the tuition programme to help students achieve results while reducing their revision hours by at least 30%.
Lessons in school are conducted in large lectures, and students often find difficulty in catching up with the pace of these lectures and are too shy to ask questions. Our JC maths tuition programme aims to enable all of our students to have a complete and thorough understanding of all the key topical concepts and equip them with the strategies that allow them to tackle common questions efficiently and effectively. On top of that, we help to develop our students in their thought processes towards tackling higher-order knowledge and real-world application questions with ease.
The Best H2 Maths Tuition for A Level and More
When you choose AO Studies, you can feel confident knowing that our O and A Level maths tuition programme has been developed with top-tier results in mind. As providers of JC maths tuition in Singapore covering O and A Level H1 and H2 maths, we know how important examination results are and as such, will strive to deliver the best H1 and H2 maths tuition to our students so that they can achieve nothing but exemplary scores.
Read some testimonials from past students below.
---
Programme Structure
How are the lessons conducted
---
Topical Reteaching and Tutorials
In topical reteaching, the key topical concepts are reintroduced, highlighting the key strategies used to solve common question types. Students will then practise examples of the different question types and through the guidance of our tutor, students will learn about the common pitfalls and mistakes that they tend to make. Each student is closely monitored while they complete the tutorial to identify critical mistakes and address them early on.
Overall Revision Drills
In overall revision drills, students will be given revision worksheets and notes that cover a span of interlinked topics. Each of these revision worksheets and notes are specially-designed to fish out common misconceptions and mistakes that students usually make. Higher-order thinking questions are also used in these worksheets and notes to challenge students and train them on the correct approach towards tackling difficult questions.

Concept-Reinforcement and Topical-Revision
In concept-reinforcement and topical-revision, students are exposed to a greater breadth of questions for each topic to promote greater familiarity with the question variations. These lessons are tailored specifically for combined-science students to help them on questions that are specific to their syllabus.
H2 NEW A Level H2 Math Syllabus
Key trends in recent examinations
---
Higher-Order Knowledge Application
Relating Mathematics in Real-World Scenarios
Drill and Practice Method
The new 2017 H2
Maths
syllabus takes a shift towards more 
higher-order knowledge application
 and increases the emphasis on 
relating mathematics in real-world scenarios
. 
At least 2
 real-world application questions (15 marks each)
, including those from science and engineering in both Paper 1 and 2 (12 marks
each),
will be included in the A Level papers.
As a result, the usual drill and practice methods will no longer be sufficient to help them score a distinction. In fact, a "less is more" logic applies. When a Junior College student practises too much, they may end up "programming" themselves to answer questions in a specific manner. Therefore, when they are tested on real-world application questions, often they find themselves unable to apply what they have learnt to solve the questions. 
At our centre, we will prepare the students to tackle these questions. Our tutorials, which are set by our tutor, will fully equip our students with the skills and knowledge to answer such questions.
On top of tackling real-world application questions, AO Studies specialises in preparing students for the usual problematic topics, i.e. Permutation and Combination (P&C). In recent years, the weightage of these topics is increasing and students are failing to score a distinction because they are unable to cope with these questions. In our lessons, students will be guided in their train of thought in order to develop the best approach to tackle these difficult topics.
Class Activities
What do we do in a typical class over the term
---
Intensive Revisions
30 hours of full comprehensive topical revision (covers every single topic and variant of questions) will be conducted followed by a full 3-hour paper 1 and 3-hour paper 2 mock exam before the A Level maths examinations. This provides students with a much-needed review of each and every topic to be tested during the exams. This is a complete tuition programme that aims to push each and every student to achieve a distinction in the A-Level exams.

Timed Test/Examination Practices
Time practices and topical tests will be conducted from time to time in our JC Maths tuition programme. This will prepare our students for regular class tests, mid-term and end-of-year examinations in Singapore, helping them in their time-management skills and putting them in the right mindset for the papers. The practices and tests will also help the students identify areas that they have yet to fully grasp and to work on or clarify those areas.
Assignments & Homework
Specially-designed tutorials and past-year prelim papers from the top JCs are often given as homework to give students the necessary practice. Most importantly, each one of these homework assignments is carefully marked and returned to the students, where their mistakes are highlighted for students to improve on.
Examinations Skills & Strategies
Dealing with a 3-hour paper can be daunting. Students are taught proper strategies to tackle the H1 and H2 Maths A Level examination papers. This includes:
Setting aside the appropriate amount of time

to complete the paper on the first attempt;

Questions to focus on (

based

on topics & how the questions are set) to get the correct answers;

Setting aside time to check for mistakes;

Employing answering strategies

and presentation methods to maximise the marks obtained.
These skills are engineered to the highest level of precision and they have been tried and tested by many generations of students.
Topical Teaching
Topical reteaching lessons will re-emphasise on the key topical concepts in each chapter, the common question types and the strategies to solve each of these question types.
Class practices are used frequently after each topical reteaching in order to assess a student's understanding. Students who struggle with the class practices are given more individual help while others who have already fully grasped the concepts are given more challenging work to extend their knowledge on the topics.
Key Features
Why should you join our JC Maths Tuition?
---
A comfortable conducive caring learning environment
The best learning takes place in an environment which is comfortable and conducive. We create an environment that promotes care and concern for each and every one of our students. Students are encouraged to ask questions without restraint and not be afraid of being judged. We take the time to celebrate our students' small successes – their first pass, their first A, their birthdays and the like. By letting them feel appreciated and heard, our students will have greater motivation to work harder to achieve their dream grades.
Tested and Proven Track Record
Our award-winning JC Maths tuition programme in Singapore has seen many batches of JC students graduate, each of them achieving stellar results. The testimonials that our students leave us are truly a strong encouragement and reassurance that our programme works and our students are deriving true value from it.
Small Class Size
The nature of learning JC maths is a complex and rigorous process that requires constant professional guidance to excel. As such, we strictly enforce a small class size for tuition so that each and every one of our students is able to obtain the needed individualised attention.
Student Testimonial
What our students say about our JC maths tuition programme
---
Chuwei is not just a tutor that guides our studies, but he is also a friend that cares and concern about our future. Though I was only under his guidance for a few months, but he helped me to achieve my personal best in H2 Mathematics. Whats more was that he also give us tips in other areas that is beyond his responsibility. He was happy (or even happier than us) for all of us that made it to our dream course in university. If anyone needs help in the academic (and maybe life) he is definitely someone to look for. I am glad that I was able to be taught by him during my toughest period of my JC life. Thank you so much Chuwei!
Click for Actual Post
AO Studies is a place with the most dedicated teachers. My awesome math tutor, Chu Wei just doesnt seem to leave his whatsapp conversations with us, endlessly solving our math questions even if it meant sacrificing his nights and midnights. Moreover, Chu Wei convicts to ensure his students would not leave lessons without learning anything, hence we see ourselves staying back completing his assignments most of the time.
Tuition can sometimes be a dreadful event, but strangely I love solving Chu Wei's monstrous tutorial questions! For this meant i have already mastered my concepts and not be afraid of taking up any school exams and finally the "A" Levels. True enough, I am proud to say I have never failed any math paper after the guidance of Chu Wei, when in fact math was my most hated subject since primary school. I even scored distinction in my A Levels!!! 
There are many more fun-loving moments during lessons which made me loved attending tuition classes compared to the dull lessons in school. 
Such fantastic environment is hard to come by, I didn't regret my choice.
Click for Actual Post
Whether you're the kind of 'a relatively doing well' but can never score an 'A' student or a 'weak in math' student like I was, please take some time to read the long but honest review:
Chuwei is a tutor with both great knowledge and a big heart. As a teacher, he never fails to clear our doubts and explain basic mathematical concepts which are crucial in cultivating problem solving skills. He goes the extra mile to answer our questions out of class and even late nights. As an Arts student who has always struggled with math, Chuwei has consistently guided me since J1 and allow me to gain confidence.
His depth of knowledge of the subject and the syllabus has enabled him to quickly identify his students' weaknesses and advise each of us individually on how we can improve. From failing math in the past, I've finally did well in A levels.
Honestly, it was never a smooth journey for me when it came to this daunting subject , and there are times where I face setbacks in examinations. Nonetheless, because of Chuwei, someone who believes in the best in every student, he gave me the encouragement I needed each time and allowed me to push through until the end. He has been more than just a tutor to all of us.
To parents or students reading, if you want a tutor who is dedicated, whose teaching is effective or a tutor who can give ur child maximum exposure (something all students really need in A level H2 mathematics unlike O levels), I believe Chuwei is the tutor you are looking for.
To students, no matter what tutor you're going to eventually, please remember that math really requires you to PRACTISE and don't be complacent. There are many 'A' students who eventually scored a 'B' just because they got lazy or are over confident. There are also those who used to fail but got an 'A' because they tried hard enough.
Click for Actual Post